Finding the right space and place
If cremation is your preferred option, the main decision you have is which crematorium to choose. This decision is usually influenced by size of service space available, your preferred location and how you would like to order the day's events. For example would you like a direct and simple cremation with few or no attendees or a traditional service followed by a gather afterwards? There is no right or wrong rule but the order of events may help determine which venue fits best.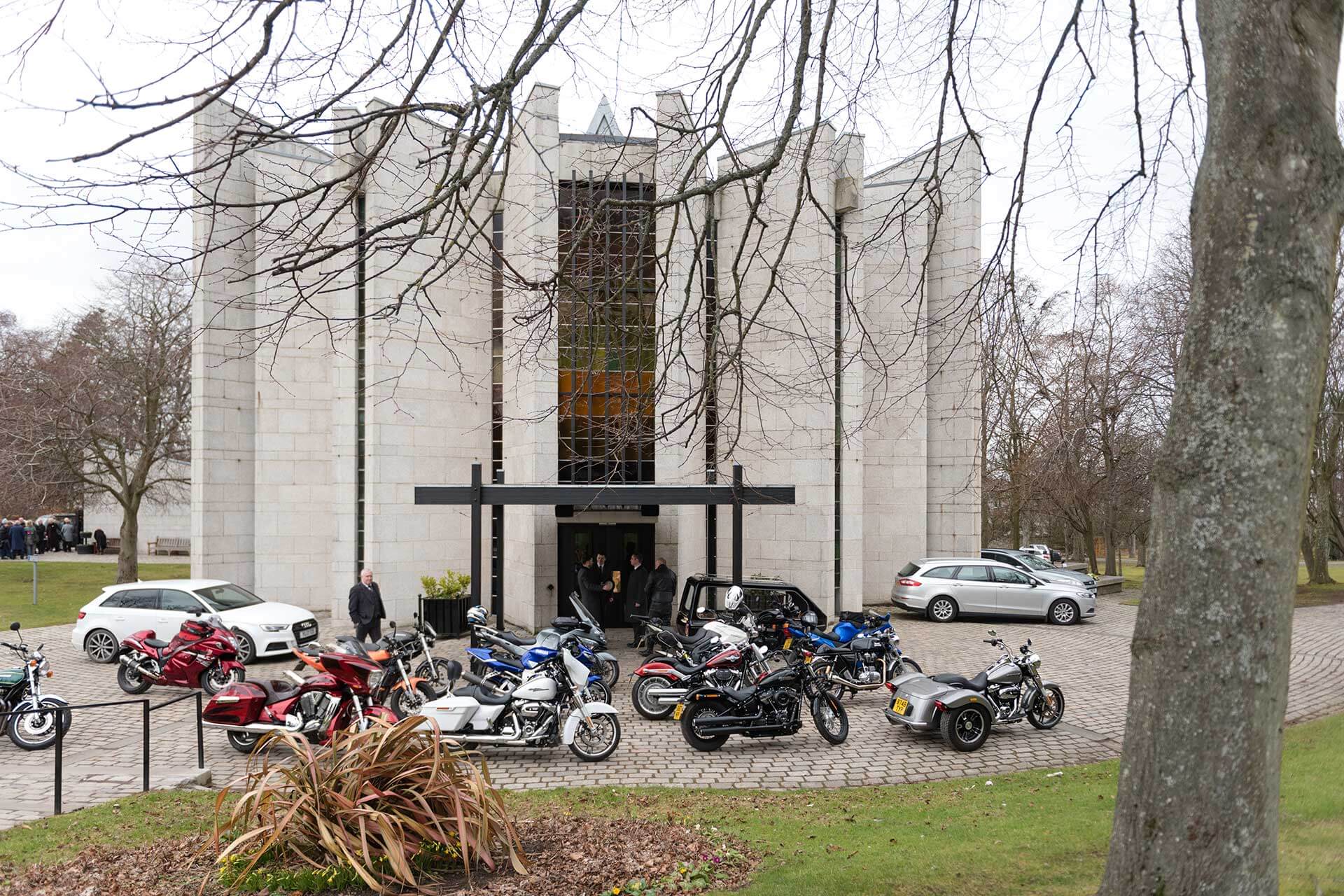 Mortonhall Crematorium
Located on the south side of the city. It has two chapels – the Pentland Chapel, which can seat about 60 people and the Main Chapel, which can seat 200 or more people.
Warriston Crematorium
Located to the north east of the city. It has two chapels – the Cloister Chapel, which can seat about 60 people and the Lorimer Chapel which can seat around 200 people.
Seafield Crematorium
Located on the east side of the city and has one chapel which seats about 130 people.
Crematoria in Lothian and Borders
West Lothian Crematorium
Just outside Livingston, this chapel holds around 112 people with room for a further 100 standing.
Houndwood (East Lothian)
Located off the A1 at Eyemouth, the main chapel can accommodate 120 people.
Borders Crematorium
Based in Melrose, there is a chapel with 100 seats and room for a further 50 people standing.
Kirkcaldy Crematorium
Located on the north side of town and can accommodate 180 people seated with further standing room.
Dundee Crematorium
Located in the north of the city and has a main chapel which can accommodate 160 people.
Is there a cost difference between a burial and cremation?
The costs depend on where you plan to be buried or cremated as fees vary dramatically throughout the UK.
I'd like to have a private funeral but a big party - can you help?
We can assist with event planning for all elements of your funeral from the simple send-off to an extravagant celebration.
Are we limited to the number of cars?
You can have as many cars as you like, and if this is not enough, we can explore coaches or other options.
I am worried about thanking everyone who attends...
We can help. On the day we can provide attendance cards for mourners to sign or leave a message of condolence. We will collate them and bring them to you after the funeral so you can focus on saying goodbye. There's also our website where people can leave online tributes. 
How long should we keep the ashes?
There's no right or wrong answer. Retaining ashes is a very personal thing. Some people want to scatter them at a later date, others can't bear to part with them. We can help by providing practical storage advice and guiding you to make the decision that is most fitting for you and your family.
Can we take the flowers home after the funeral?
You can keep or leave, all or part, of any tribute just as you please. Often a memento is taken by family members or sometimes sprays can be donated to a church, hospice or nursing home. There is no "rule".